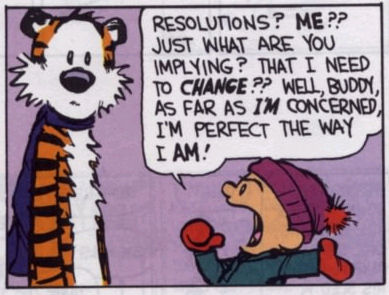 It's time to lie to yourself again.
Yep, its New Year's Resolution time.
Do you participate in this old custom? A good many of you do. Sadly most of you don't finish them. According to
43things.com
...
A University of Washington study in 1997 found 47 percent of the 100 million adult Americans who make resolutions give up on their goals after two months. This figure has grown to 80 percent in the past decade, according to recent research completed at the University of Minnesota.
The History of New Year's Resolutions goes back to Roman times. It was the custom to pay off debts and to return borrowed items. Somehow that evolved into, "This year I'm going to quit drinking, quit gossiping, cut up all my credit cards and lose 25 pounds." With such nebulous targets is it any wonder people quit after just two months?
This year I propose you have a resolution for each month, "This month I will stop sniffing glue." If that works out for you then you won't be sniffing glue next month. If you slip and start sniffing glue before the month ends, you can start again next month, "This month I will really stop sniffing glue."
Americans in my opinion, as a whole, lack focus and believe their harmful habits will not kill them. I know from my younger days that all those years I lived like I was bullet-proof added up. Cutting down on your drinking and other destructive habits is a good idea across the board. I don't remember what year I stopped binge drinking. I do remember though, that it was not a New Year's Resolution. It was a product of weighing the costs. It just didn't make sense to pound my body with alcohol for a day. Especially when I lost two days recovering.
Time is something you can never get back. My best friend Paul has a saying, "Whenever you can trade money for time, its a good trade. I can always make more money. I can never get the time back." So every year you continue your bad habits subtracts time you will want back later in your life.
So this year's resolution for me is to set small goals and to accomplish them. As recent as just 6 years ago I weighed 230 pounds. Its hard to believe but it is true. I lost 45 pounds of the course of 3 years. I set a big goal of weighing 190 pounds. And to accomplish that goal I set monthly goals to lose 2 pounds. I didn't start with I'm gonna lose 25 pounds and then after a few set-backs giving up.
So this year, set a small goal and accomplish it. And then set another... and another. This time next year, you can look back and say, "I hardly ever sniff glue, anymore." How about that?!
Thanks for reading, and have a Happy New Year.