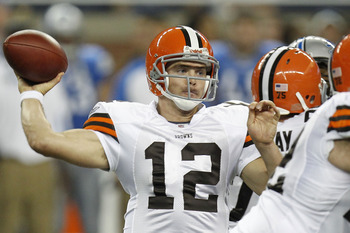 AUSTIN, Texas – Texas will retire the No. 12 worn by former quarterback Colt McCoy.
McCoy, who may get his first NFL start this week with the Cleveland Browns, won an NCAA record 45 games as a starter for the Longhorns from 2006-2009. He was a Heisman Trophy finalist in 2008 and last year led Texas to the Big 12 title and a berth in the national championship game.
This is marketing genius. Let's set the stage, Texas is out of the top 25 rankings for the first time since 2000. After their loss to Nebraska this weekend, they will have three loses for the first time since Mack Brown took over the helm.
We've got to do something to distract what's left of all the Longhorn fans?
Let's retire a jersey. But who? Colt McCoy
almost won the Heisman
lets retire his jersey. But wait Texas is going to retire the most popular quarterback number in the history of football. I wonder how many recruits this will cost them?