All the news that's fit to comment on. Except no one ever really comments. SO it's more like a monologue of slightly OCD mind.
Friday, September 3, 2010
Oh! That's not right. If the kids at that poor kids school find out...the teasing will be BRUTAL.
A 1-inch thick rubber bracelet has caused quite a stir in schools across the country, despite the positive message its wearers believe it sends.
The bracelets say "I [heart] Boobies" and are part of a nationwide campaign launched several months ago to make young people more aware of breast cancer.
School boards across America are clueless cracking down on the bracelets.
Parents' opinions are mixed, judging by postings on a variety of parenting blogs.
"While I think raising cancer awareness is important, I don't think 'boobies' is an appropriate word for school," wrote one mother.
Teenage kids today love boobies. You may also find it interesting to learn adults today also love boobies. You may also be amazed to learn that people in the olden days loved boobies as well. boobies, boobies, boobies.
Help, ANY WAY YOU CAN, to fight breast cancer. If wearing a humorous bracelet helps support cancer research, wear one, hell wear one with your Save the Tatas t-shirt.
How about this...buy one in each color and wear it with your
Save Second Base t-shirt
while you participate in a
Susan B Komen
cancer run in your area.
If we can bring cancer awareness to the population and if that helps fight cancer, then we should do it.
Breast cancer is not a joke. But if we can bring a little levity to the subject and that brings greater awareness and saves a few women the indignity of this terrible disease, then lets do that too.
Here's a suggestion for all you high school principals out there. Kids want to wear this items. How about you have a policy if they participate in a Breast Cancer Awareness event they can wear the shirts on one day that year. How about you show how much you are in support and show up too.
My friend is a high school teacher, he loves history. He gives extra credit to any kid who shows up at a historical event and takes notes and brings them back to class on Monday.
How about you do the same but with Breast Cancer Awareness?
Here's a spicy poster to take you out...have a good, cancer free, day.
Boobies.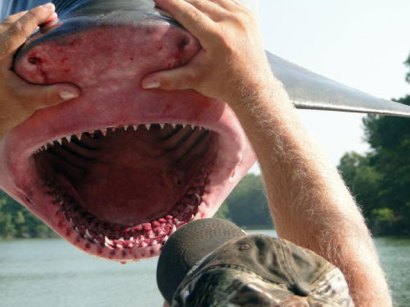 Willy Dean has an incredible fish tale to tell. On Tuesday, he caught a shark while on the Potomac River in St. Mary's County, Md.
Don't believe him? He has the pictures to prove it.
Next thing someone will be showing us the Great White Shark they caught in Lake Michigan. Are these predators getting that desperate for food or just getting smarter about finding unsuspecting food?
Tuesday, August 31, 2010
WASHINGTON — When seeking peace in the Middle East, it pays to learn from your mistakes.
That's what veterans of previous peace talks advise as the Obama administration begins its first effort this week to bridge decades of discord between Israelis and Palestinians.
Seven front-line negotiators dating back to President Jimmy Carter's successful Camp David accord between Israel and Egypt offered lessons from the past 33 years that they say could help President Obama avoid the pitfalls of the past.
As the tagline on Fark.com states, the first rule of Mideast Peace Talks is...
1) Stop calling them Peace talks
President Obama already won the Nobel Peace Prize for...ummm, I'm not really sure, but I'm sure he'll be nominated again for this year's Peace Talk you can count on it.
I couldn't agree more. If these so called Peace Talks actually worked they wouldn't need another peace talk two years later. Why do they drag this crap out? Why does America continue to be the "go to guy" on Mideast peace? Who invented liquid soap and why? This is a HUGE waste of resources and tax payer dollars. Will either of the sides of this conflict do anything seriously stupid in the next year? Not if we threaten to pull our funding.
Just dangle the taxpayer's check book in front of them. Tell Israel to "fix their shit" or we will stop sending them money and planes and guns and food. Tell the Palestinians that if they don't stop laying down for the damn terrorist who "speak for all the Palestinian people" that we will fund Israel to wipe them off the face of the map forever. There, that ought to take care of it. Good luck.

That picture BEGS for a caption contest.