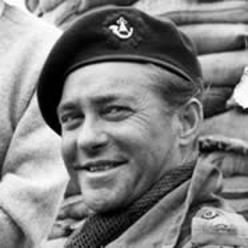 LONDON — Actor Richard Todd, OBE, who starred in the classic World War II film "The Dam Busters", has died at the age of 90, his spokeswoman said Friday.
The Oscar-nominated actor, who played a string of typically British heroes, died peacefully in his sleep on Thursday night at his home near Grantham in eastern England, the spokeswoman said.
As an army captain he was one of the first British officers to land in Normandy on D-Day on June 6, 1944, parachuting in after Major John Howard's glider forces had captured the strategically important Pegasus Bridge.
Todd played Howard in the 1962 D-Day film "The Longest Day", in one scene playing opposite an actor playing himself.
"Being first out of the first plane wasn't my idea, I assure you," he told the News of the World newspaper earlier this year.
"I had no experience of dropping under fire. But I remember looking out and seeing the tracer bullets zipping past us.
"I didn't think about the risk to my life, I just jumped."
He was the first choice of James Bond author Ian Fleming to play the fictional spy, but had to turn the role down due to other commitments.
Sean Connery, fresh from playing alongside Todd in "The Longest Day", got the role instead.
Todd was nominated for the 1948 best actor Academy Award for his role as Corporal Lachlan MacLachlan in "The Hasty Heart", where he played alongside US president-to-be Ronald Reagan, who became a friend.
A very sad day indeed. Thank you for your service. Thank you for your craft. He was photographed with a lot of French gals back in the day. Can you blame him? Manly men, doing manly things.
From the a
website about the movie The Longest Day
a nice remembrance of his time during the war:
A week earlier, during a exercise, Todd and Sweeney, had also run into each other. When they introduced themselves, it went like this, Lt. Sweeney: "I met this chap on the bridge and he said,… "Hello, my name is Todd and they call me Sweeney",… So I replied,… "Hello, my name is Sweeney and they call me Tod!" (Richard Todd played once the roll of Sweeney Tod, a murderess barber). Richard Todd would never have guessed, that in 17 years time, in 1961, he would be once again standing on the bridge, now as an actor to portray Major John Howard who was given the order: 'Hold,… until relieved'.