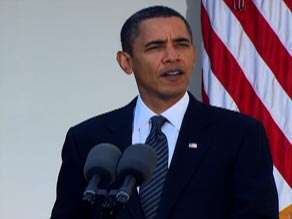 (CNN) -- President Obama on Friday said he was "surprised and deeply humbled" by winning the 2009 Nobel Peace Prize.
"I do not view it as a recognition of my own accomplishments, but rather as an affirmation of American leadership," Obama said from the White House Rose Garden.
"I will accept this award as a call to action."
Obama said he did not feel he deserves "to be in the company" of past winners.
The Nobel announcement was a stunning decision that comes just eight months into Obama's presidency.
The Norwegian Nobel Committee said it honored Obama for his "extraordinary efforts to strengthen international diplomacy and cooperation between peoples."
The decision appeared to catch most observers by surprise.
The president had not been mentioned as among front-runners for the prize, and the roomful of reporters gasped when Thorbjorn Jagland, chairman of the Nobel committee, uttered Obama's name.
Now I've seen EVERYTHING. Wow. My first reaction was to check the calendar make sure it wasn't April Fool's Day. My second reaction was similar to everyone else's. What a lame excuse to give that award. He hasn't earned it, not if you look at all the other prize winners and their accomplishments. I am stunned.