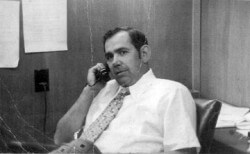 It's no wonder the state of California is bankrupt.
CALPERS, the California Public Employee Retirement System, is now paying annual retirement benefits of more than $100,000 to 5,115 employees, including nearly $500,000 to the most highly-compensated former employee.
This idiocy will only get worse, because the state government has grown so dramatically in the last few years. More current grossly overpaid bureaucrats lead directly to more more future grossly overpaid retired bureaucrats.
CALPERS' most highly-paid retiree is Bruce Malkenhorst, former city administrator of Vernon, California, whose pension pays $499,674.84 per year.
Never heard of Vernon, California? Well, no wonder. It the smallest incorporated city in Southern California with a population of just 91. Yes, you read that correctly.
And you wondered why California is going bankrupt. Wonder no more.