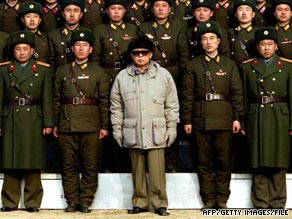 SEOUL, South Korea (CNN) -- North Korea test-fired a fourth short-range missile off its east coast Thursday, South Korea's Yonhap News Agency reported.
South Korea's Defense Ministry had earlier confirmed three launches, but could not immediately be reached about the fourth reported missile.
The intelligence official, who could also not be named for security reasons, said the launches came as no surprise because North Korea had issued a warning to mariners to avoid an area in the Sea of Japan at certain times between June 24 and July 9 because of a "military firing exercise," according to a U.S. military communication about the warning provided to CNN.
At the rate they are firing on the Sea of Japan you would think the Sea of Japan would either capitulate and surrender. The United Nations is at this time drafting a

strongly worded letter

to North Korea asking them, if the UN gave them 100 billion dollars and enough food for the winter would North Korea please promise to dismantle their nuclear program

again

and not to launch any more missles until at least October.