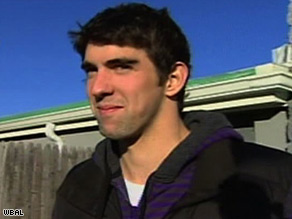 Olympic hero Michael Phelps was suspended from competitive swimming for three months on Thursday -- just hours after one of his sponsors announced it would not renew his contract after a photo surfaced of him smoking from a bong.
USA Swimming, the nation's governing body for competitive swimming, said it was withdrawing financial support for Phelps and barring him from competition during the period of his "reprimand."
"This is not a situation where any anti-doping rule was violated, but we decided to send a strong message to Michael because he disappointed so many people, particularly the hundreds of thousands of USA Swimming-member kids who look up to him as a role model and a hero," they said in a statement.
"Michael has voluntarily accepted this reprimand and has committed to earn back our trust," the statement continued.
Earlier Thursday, Kellogg Co. said it will not renew Phelps' advertising contract.
"Michael's most recent behavior is not consistent with the image of Kellogg," company spokeswoman Susanne Norwitz said. "His contract expires at the end of February, and we have made a decision not to extend his contract."
...
Phelps is one of 12 Olympic athletes who pledged to "My Victory," an initiative launched last year by the U.S. Anti-Doping Agency aimed at keeping competitive sports clean.
Full story here.
Oops! What a dumbass, you are a swimmer and you had a sponsor, that paid you good money, and ya went and screwed it up. When will these kids learn...
At least it was just marijuana and not roids.