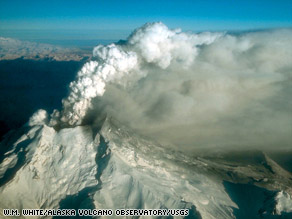 In the shadows of Mount Redoubt, Alaskans are calmly waiting for the volcano to erupt -- an event that could occur at any time.
"The level of seismic activity" has "increased markedly" in recent days at the 10,197-foot peak located about 100 miles southwest of Anchorage, the state's most populous city, according to the Alaska Volcano Observatory.
"We don't have a crystal ball," said Peter Cervelli, a research geophysicist with the observatory, which is aggressively monitoring the volcano.
The activity has consisted "of a combination of discrete, relatively small earthquakes and periods of more continuous volcanic tremor," Cervelli said.
Scientists raised the alert status Sunday to a "watch" level, the second-highest, based on seismic activity detected January 23.
The "watch" status means the "volcano is exhibiting heightened or escalating unrest with increased potential of eruption, time frame uncertain, or eruption is under way but poses limited hazards," according to the U.S. Geological Survey.
Maureen Burke, 29, a coffee shop manager in Anchorage, said she remembers the last eruption and isn't too worried this time.
She said living in Alaska and being close to nature, residents just laugh such events off, dealing with them as they come.
Get a mask and enjoy the show!
Oh wait, I mean the world is going to end, we must panic and rush around..umm yeah. Sorry wasn't being very news reporter there.