Let us consider for a minute the biggest threats to America.
According to the
Steven Colbert Report
they are:
* 5. Canada!
* 4. Food!
* 3. Toys!
* 2. Robots!
* 1. Bears!
This is supported by many the websites you can purchase posters and clothing warning the populous of the Bear Threat.
It is a fact that bears in all forms are very dangerous, well maybe not Koala bears, but all the rest are killers. I wouldn't want to be bitten by a Koala either but they are not high on the attack list in Austrailia.
List of fatal bear attacks in North America by decade
Most bears are law abiding members of the ecosystem and confine their attacks in the form of close quarters battle. A bear picks their victim and closes on them and then engages in claw-to-hand combat.
Well yesterday the Supreme Court of America decided that bears should be EVEN more dangerous. The U.S. Supreme Court ruled Thursday that a sweeping ban on handguns in the nation's capital violated the Second Amendment right to arm bears. Now bears everywhere will be able to purchase firearms and engage their victims at 50, 100, even 600 yards with the proper firearm and accessories.
The Decision.
I didn't read the whole thing very closely but basically it gives the people of the District of Columbia the right to arm bears. Which will have an adverse affect on the many other hundreds of laws prohibiting the arming of bears in other cities.
I've been to Washington DC many dozens of times and I have never actually seen any bears there, but apparently the Court sees fit to arm those bears that do live there.
These two gentlemen are standing on the steps of the Supreme Court holding flags they hope to market to the newly armed bear population.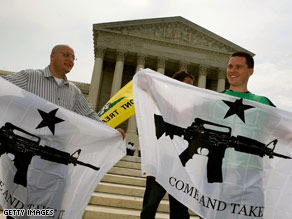 Doomed in short we all are.
In other news my dyslexia has gotten much better since I began blogging again. Praise the Lord for that, unless your a Jedi, then just thank the Force for me.