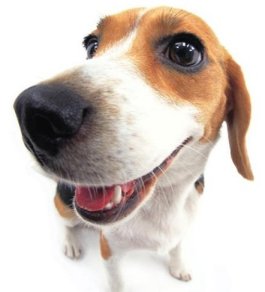 We all love our dogs, and most of us believe our own dog must be the smartest ever.
PetMedsOnline has a compiled list of the 10 smartest and 10 dumbest. It's totally un-scientific.

Dumbest first.
10. Basset Hound
9. Beagle
8. Mastiff
7. Pekingese
6. Bloodhound
5. Borzoi
4. Chow Chow
3. Bulldog
2. Basenji
1. Afghan Hound

I love how the writer goes to some effort to "say something nice" about each breed and then leaves you hanging when the deficit is expected.
I will re-write the Beagle entry for you because my oldest daughter has two of them. And when they had to live with us for 2 months while their house was finished I got to experience the true Beagle.

9. Beagle
If it weren't for cows and horses the Beagle would quite possibly be the dumbest animal on the planet. Do-Do birds were wiped out by man due to their shear stupidity. If it were not for this bird we might actual have such great insults as, "you are such a Beagle", "you fucking Beagle", and "hey Beagle, pull your head out of your ass". While Beagles are loveable it's only due to the human instinct to love animals and sometimes people you feel sorry for. Beagles respond favorably to electric shock to correct bad behavior like digging under fences and destroying lawn furniture.

And now on to the Smartest Dogs.
Please remember this is their list and not mine.

10. Austrailian Cattle Dog
9. Rottweiler
8. Papillon
7. Labrador Retriever
6. Shetland Sheepdog
5. Doberman Pinscher
4. Golden Retiever
3. German Shepards
2. Poodle
1. Border Collie

After reading this list some of the entries shouldn't surprise you. Labs and Goldies are notoriously smart animals. You've seen them in many, many movies, mostly because they actually understand the English language better than that guy at the counter of the Happy Family Chinese restaurant that makes the killer Kung Pao Chicken you like. The Border Collie is the most likeable of the smart dogs. Mostly because they remind you of your brother's kids, but only smarter. You won't see them playing in the mud and eating it.

My best friend's dad had a Austrailian Cattle Dog. Super smart. That dog could probably have inoculated the cattle for him if he had had an opposable thumb to squeeze the syringe. He once told him to "stay in the truck" after he got it stuck on the back 90 down by the river. Nefarious people who would 4x4 at the river would strip trucks that were left on or near the river. When he got back to the truck 2 days later, there was that dog, right there in the back of his totally intact pick up truck.

I've owned a German Shepard. Zep, named by my brother for of course Led Zepplin. As a puppy it followed him home one day when he was walking home from work I'm really not sure why he was walking. Anyway Zep had about a 300 word vocabulary. We actually had to spell words around her so she would know what we were talking about. And that didn't always work cause she would figure out what we were talking about anyway. Case in point was my daily routine to retrieve the mail. I would ask if anyone had picked up the mail yet. And after a few times of asking her if she wanted to go get it with me. Yeah, I asked her just like that. She would run to the door and wait to go. So on the days when I didn't need to pick up the mail cause my wife or kids did it for me. I would say, did anyone pick up the m-a-i-l? She learned that phrase meant mailbox trip. She also knew when we would spell out the word c-o-o-k-i-e that she was getting a treat. It was creepy how she would stare at us when we talked, almost like she was listening and working out the meaning of the conversation in her head. It was insane how much English she knew.

She was a great dog but had a lot of trouble with loud noises like thunderstorms and fireworks. It would drive her insane and she would destroy the room she was in to get outside. This drove her to get out of the yard one day and hit by a car. I miss her.

Share some stories about your dogs in the comments. Have a good weekend.